D Zambelis hold the UK's widest and most exclusive range of diamond cutting tools, machinery, abrasives, glues and polishing tools for the stone industry.
We have been going strong within the stone industry since 1996 and are still expanding.
At D Zambelis, we offer a wide range of CNC tools for use across all type of materials.
We are able to produce customised profile and tools, through our Italian partners.
Our CNC tooling range covers, router, profile wheels, and tools for milling, engraving/carving and drilling.
All our CNC tools are produced in Italy, through our partners: Diamar - Electroplated Tooling for Marble
Nicolai Diamant - internationally recognised producer of popular CNC tools 
GS Diamant - Customised and standard CNC tools, all produced in Carrara, Italy.
The Venus Blade from Cidiam Group has taken Europe by storm!
This diamond blade is used for cutting quartz and granite. The blade's fast-cutting, smooth cuts and excellent lifespan make it excellent for use on engineering stones such as quartz and granite.
The blade that has taken Europe by storm!
Fast-cutting, smooth cuts and excellent life span for Engineering Stones, Quartz and Granite Segment height - 15mm Made in Italy by Cidiam Group
Jolly Glue is one of the longest-established glue manufacturers originating in Italy.
It is effective on natural stone, including granite, marble and natural quartzite, it is used around the world and is known for its great quality.
We now have Jolly Glue available in larger tins and at lower prices than other brands.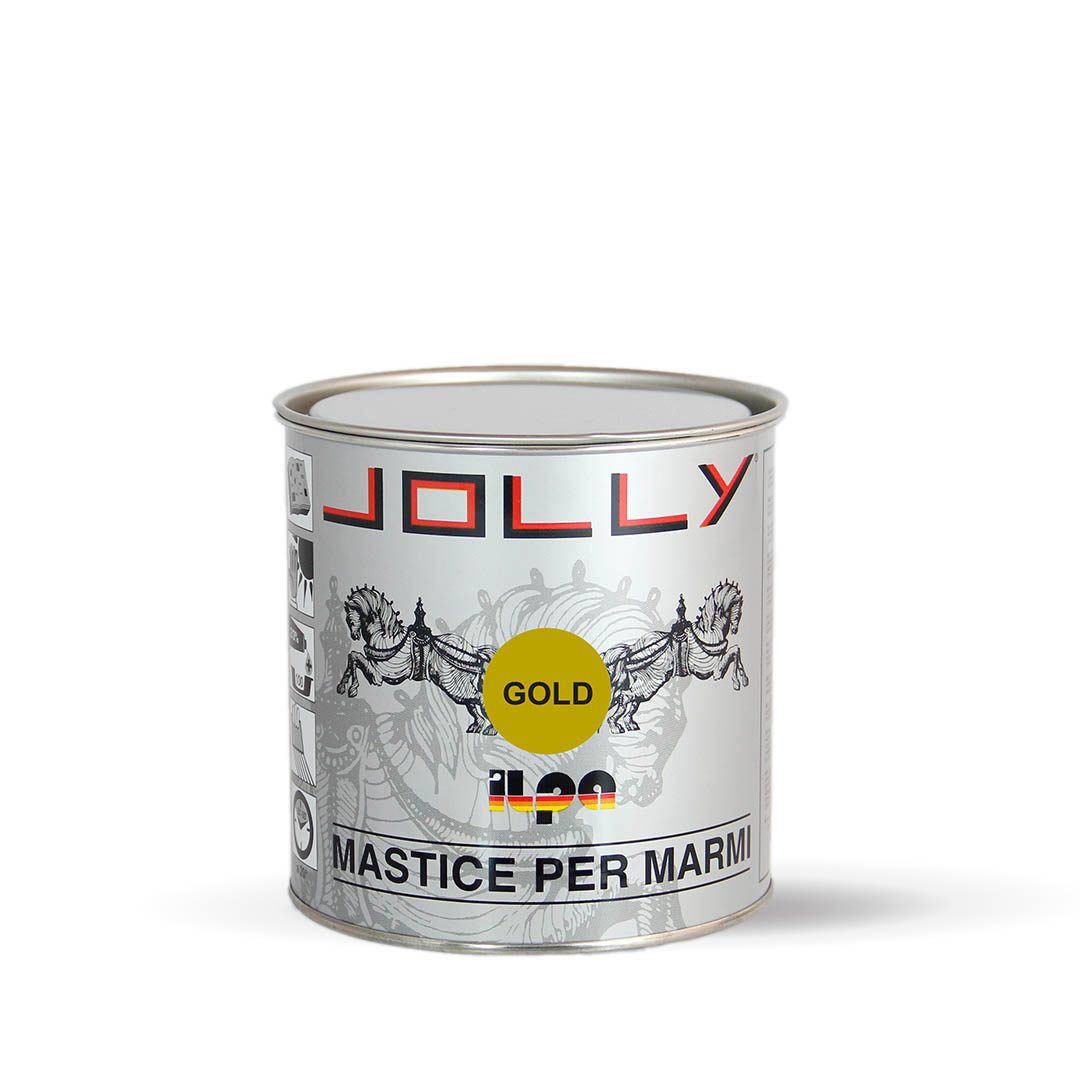 Pasty compound characterized by high thixotropy and transparency. Very suitable for vertical jobs and for the repair of material. Once hardened, it takes on all the characteristics of the stone and can be worked with.
It can be easily coloured by the addition of paste pigment
Available in 1kg tin
Bulk quantity - 12 pieces of  1kg tin
SAIT Abrasives is a well-recognised company in Europe and the world for producing abrasives products, with FEPA approval.
Explore their range of spray-on and hook-and-loop (Velcro) sanding papers, for achieving a high finish, with dry and wet use, all at affordable prices - exclusively with D Zambelis.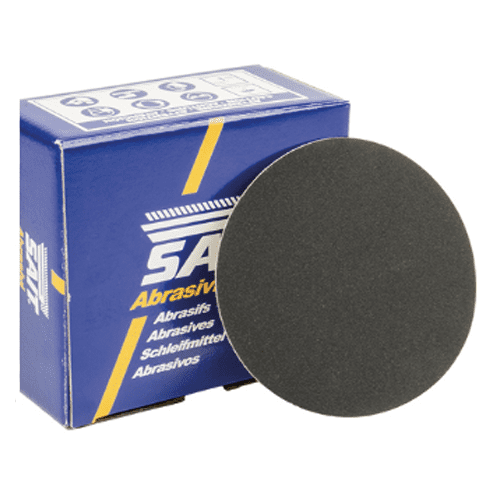 Silicon carbide polishing papers with Plain Backing
Diam 125mm (5")
Box sizes Grit 60 - Box of 50 discs Grit 120 - Box of 100 discs Grit 220 - Box of 100 discs Grit 320 - Box of 100 discs Grit 400 - Box of 200 discs Grit 600 - Box of 200 discs Grit 800 - Box of 200 discs Grit 1200 - Box of 200 discs
Made in Italy by Sait Abrasives
We only use the best when it comes to our machines as we only sell machines from companies we trust and hold in high esteem.
Our range covers every aspect of stone processing, from 3.5mm block cutters and 5,6 & 7 axis CNCs to lifters and bench saws.
We stock machines from some of the leading brands in the stone industry including OMAG, Achilli, Terzago, Italmecc and many more.
The Achilli GOLD is a compact 4-axis monoblock bridge saw.
It has an automatic head rotation (0-360º),  15HP variable speed motor for cutting a variety of materials, including Natural Quartzites (Taj Mahal) and Porcelains (Dekton).
It also features a tilting table and a motorised tilting head (0-45º).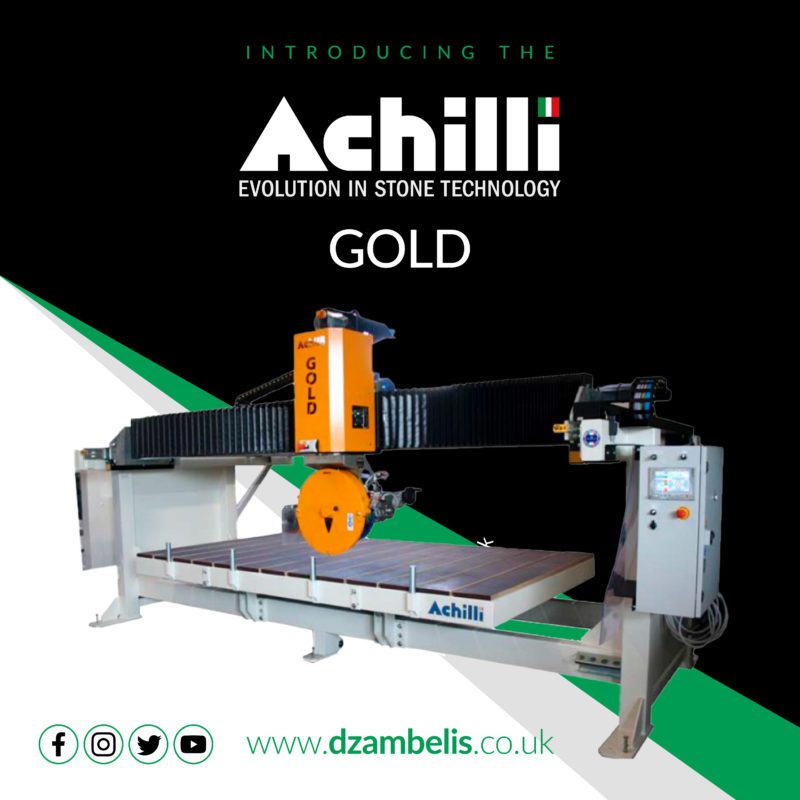 The Terzago CUTE 36 is a 4-axis monoblock sawing machine with connection options for many tools.
This is a compact machine specially made for use in factories with limited space. It is designed for the production of shaped pieces, profiling with a horizontal blade, kitchen worktops, steps, shower trays, masonry work in all natural stone, engineering stone and sintered stone-line Lapitec, Dekton, and Porcelain.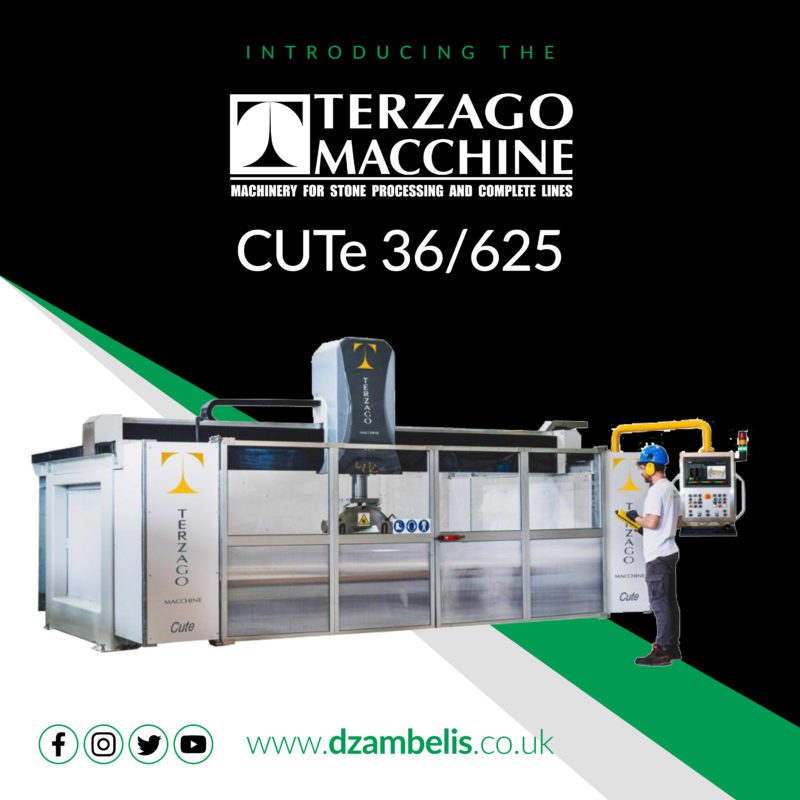 The Italmecc Airbox is a specialist water dust collector, with two fan motors and brass water spray nozzles.
This user-friendly booth comes in 2, 3 & and 4 meters and is suitable for both dry and wet polishing, and is a popular piece of equipment for any type of fabrication!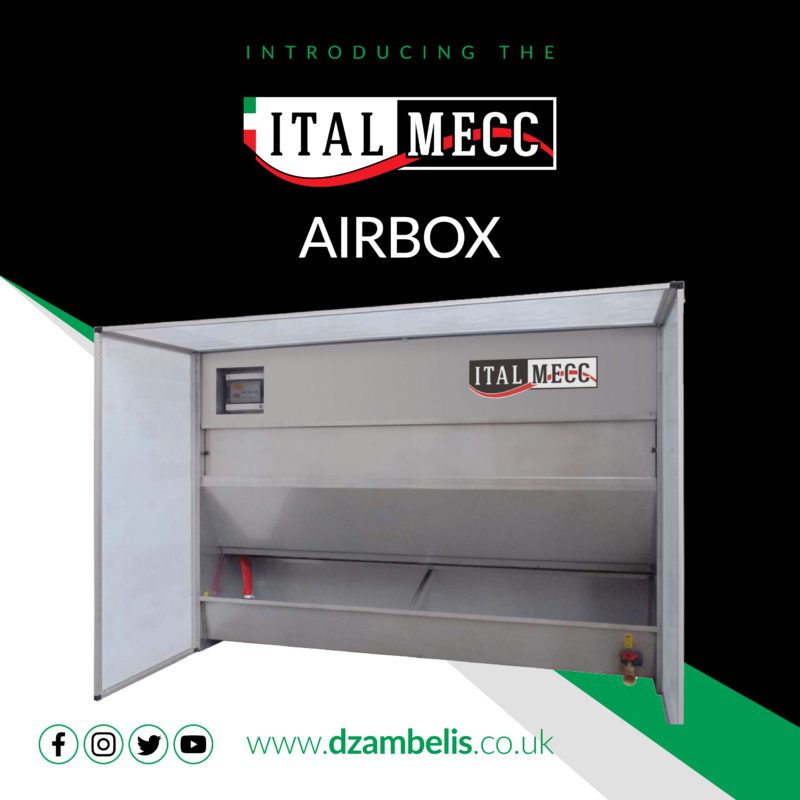 A 5 Axes, high precision and fully customisable bridge saw and CNC working centre.
Featuring a 27HP motor, this machine is suitable for kitchen worktop fabrication, as well as masonry work, as the machine can automatically take a maximum blade of 900mm diameter. Using a ISO50 tool attachment, it also features an automatic tool station, for using a variety of CNC profile, engraving and milling tools, to be able to cut, mill, profile and polish a variety of stones at the highest level of accuracy.