Our Edge polishing machine Micron combines operation simplicity with a very small size and a wide range of different profiles.
It can work every kind of round and straight profiles as well as bevels included.
Micron was studied to reuse the little pieces of marble that would otherwise be thrown away.
Fast and compact, it is ideal for backsplash and small strips. It is the right machine to perfectly work slabs from 10 to 40 mm thickness.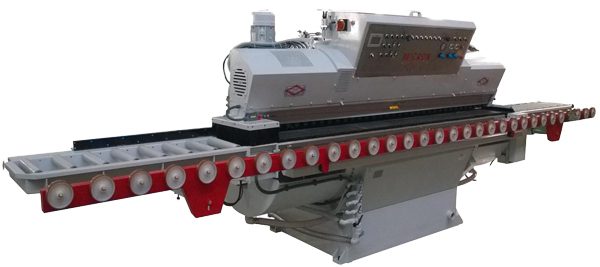 | data | description |
| --- | --- |
| Overall dimension | 5460x1500x1900 mm |
| Weight | 2.2 tonnes |
| Dound pressure level | <85 dbA |
| General Motor | 7.5 Kw |
| Workable width | 100-1200 mm |
| Maximum workable width with filly extended hydraulic rod | 2500 mm |
| Workable thickness | 10-40 mm |
| Worktop height | 975 mm |
| Conveyor advance speed | 20-2000 mm/min |
| Calibrating/shaping tool diameter | 120 mm |
| Calibrating/shaping spindle power | 4.0 Kw |
| Grinding tool diameter | 100 mm |
| Grinding spindle power | 3.0 Kw |
| Number of hydraulic polishing spindles (1 diamond) | 8 |
| Polishing tool diameter | 100 mm |
| Number of chamfering tools | 1+1 or 2+2 |
| Chamfering spindle power | 1.5 Kw |
| Chamfering tool diameter | 100 mm |
| Diameter of drip-cut disc | 150 mm |
| Power of drip-cut disc | 4.0 Kw |
Request Further Information