The COMET machine has been designed and built for the manufacturing of:
Edge and bevel polishing;
Upper rim gauging;
Drip milling.
COMET is a modular machine because all its parts are interchangeable. The machine meets the different needs of the operator and is suitable for the processing of granite or marble slabs and blocks of a thickness varying from 20 mm to 60 mm. The COMET machine is really unique in its kind. Its performance makes it useful also in funeral art.
The outstanding feature of this polishing machine is its complete automaticity. It is possible to polish simultaneously and without any manual intervention ribs and bevels of slabs and blocks of different thicknesses. The new patented transporting system, together with the pneumatic pressure rollers ensures the perfect anchorage of the pieces during the rectilinear movement.
There is no need for vertical rollers and support bars on the COMET which are normally put on other machines to prevent mechanical damage and material breakage. It is possible to manufacture pieces having different shapes, width, height, and unparallel geometric forms. All edge heads are mounted on a structure in oil-bathed iron permitting the perfect alignment of each piece and a long-life for the mechanical parts.
The  COMET machine is hydraulically controlled. There is the possibility to change the speed of operation, ensuring the perfect execution of pieces with different shapes and compositions (crows feet, sloping incision, etc.). The structural solidity combined with the high mechanical performance makes the COMET a machine that is really unique in its kind.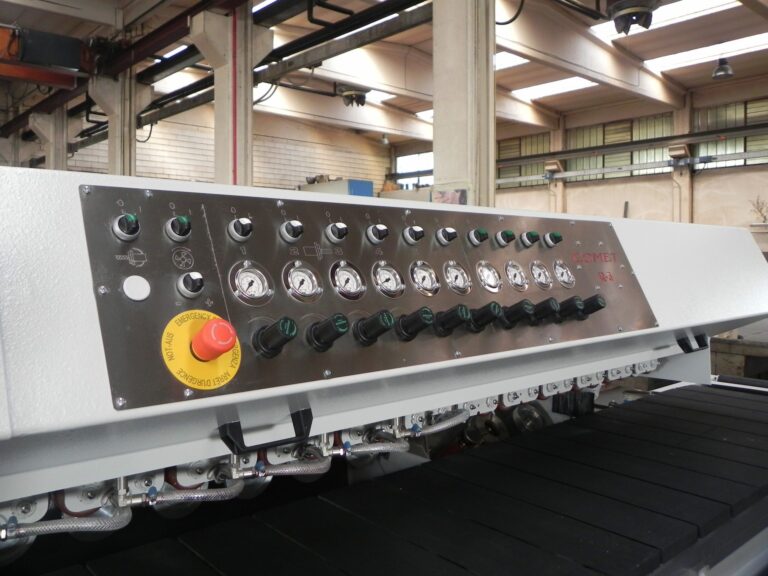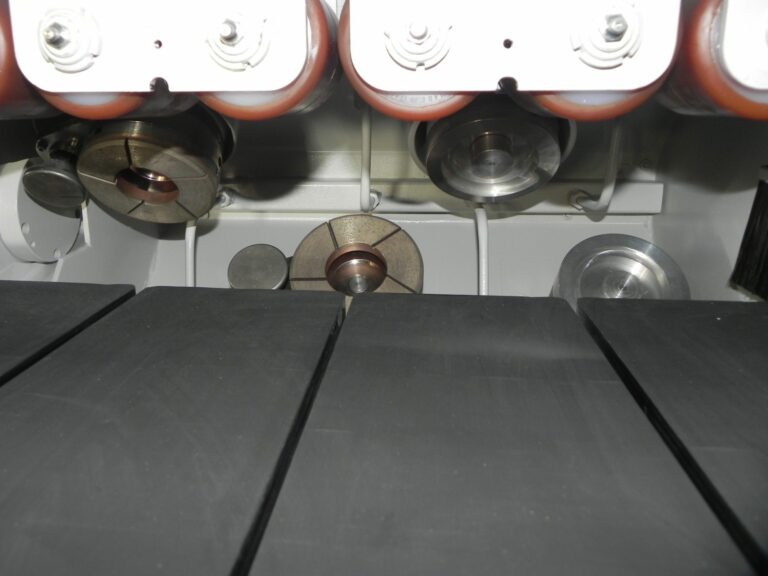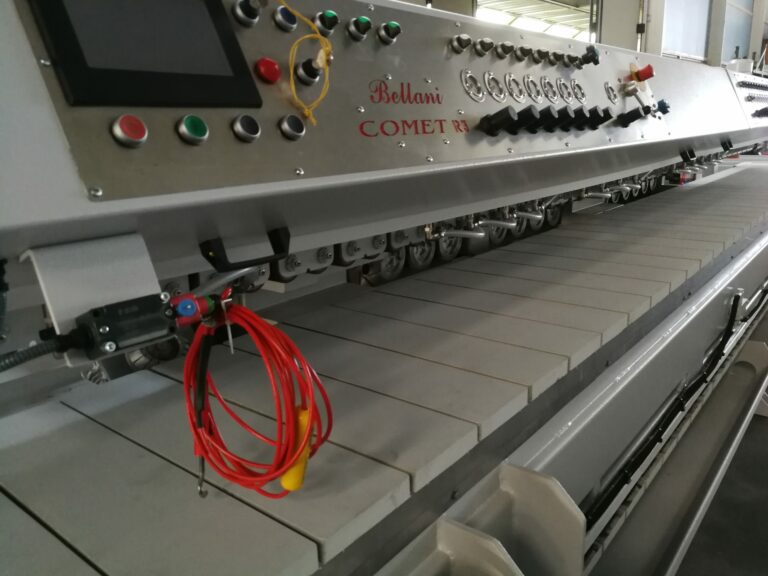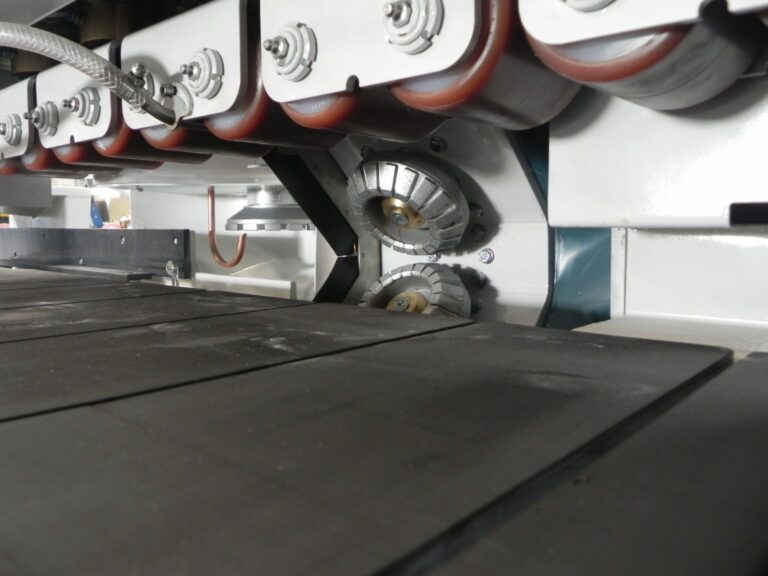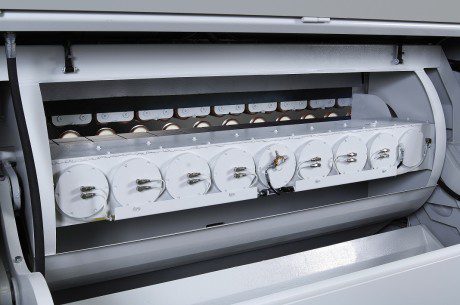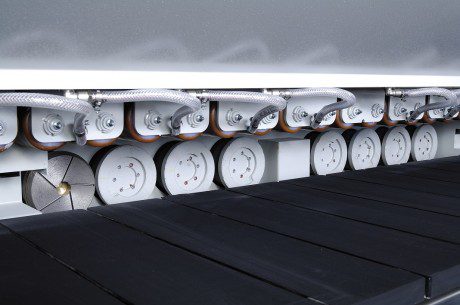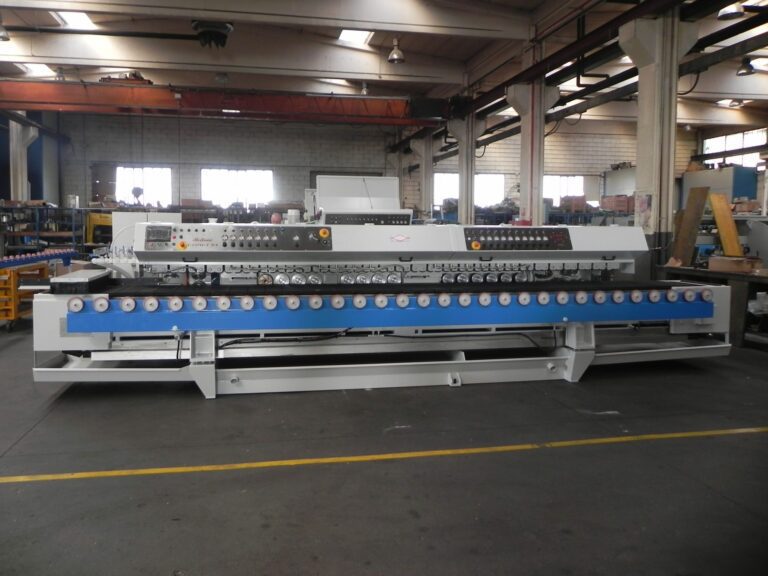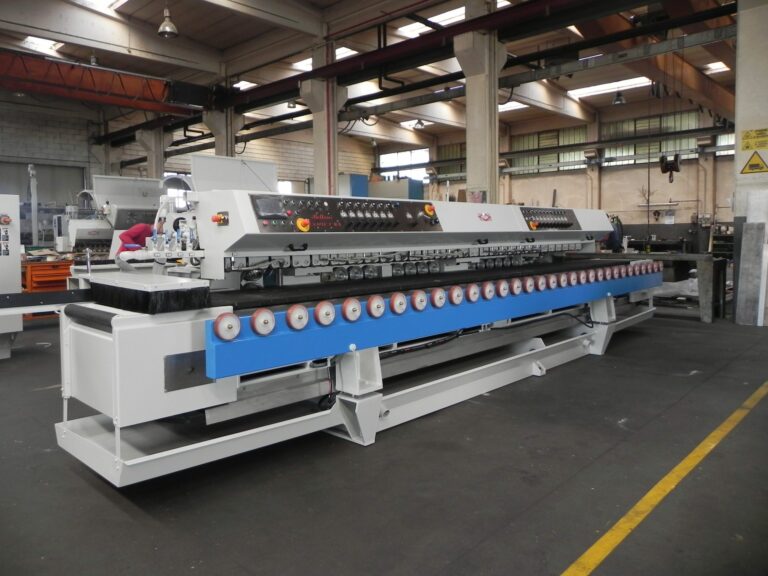 | data | description |
| --- | --- |
| Overall dimension | 5530x1950x1600 mm |
| Weight | 5.5 tonnes |
| Dound pressure level | <85 dbA |
| General Motor | 22 Kw |
| Workable width | 170-1200 mm |
| Maximum workable width with filly extended hydraulic rod | 3000 mm |
| Workable thickness | 10-60 mm |
| Worktop height | 950 mm |
| Conveyor advance speed | 20-2000 mm/min |
| Calibrating/shaping tool diameter | 140 mm |
| Calibrating/shaping spindle power | 4.0 Kw |
| Grinding tool diameter | 140 mm |
| Grinding spindle power | 3.0 Kw |
| Number of hydraulic polishing spindles (1 diamond) | 8 |
| Polishing tool diameter | 150 mm |
| Number of chamfering tools | 2+2 |
| Chamfering spindle power | 1.5 Kw |
| Chamfering tool diameter | 130 mm |
| Diameter of drip-cut disc | 200 mm |
| Power of drip-cut disc | 4.0 Kw |
Request Further Information