An OMAG machining center does not limit the possibilities of work
TOWER brings together all the solutions developed by OMAG, in the course of its long experience in high technology machines, this allows TOWER an extreme rigidity and a "limitless" movement capacity.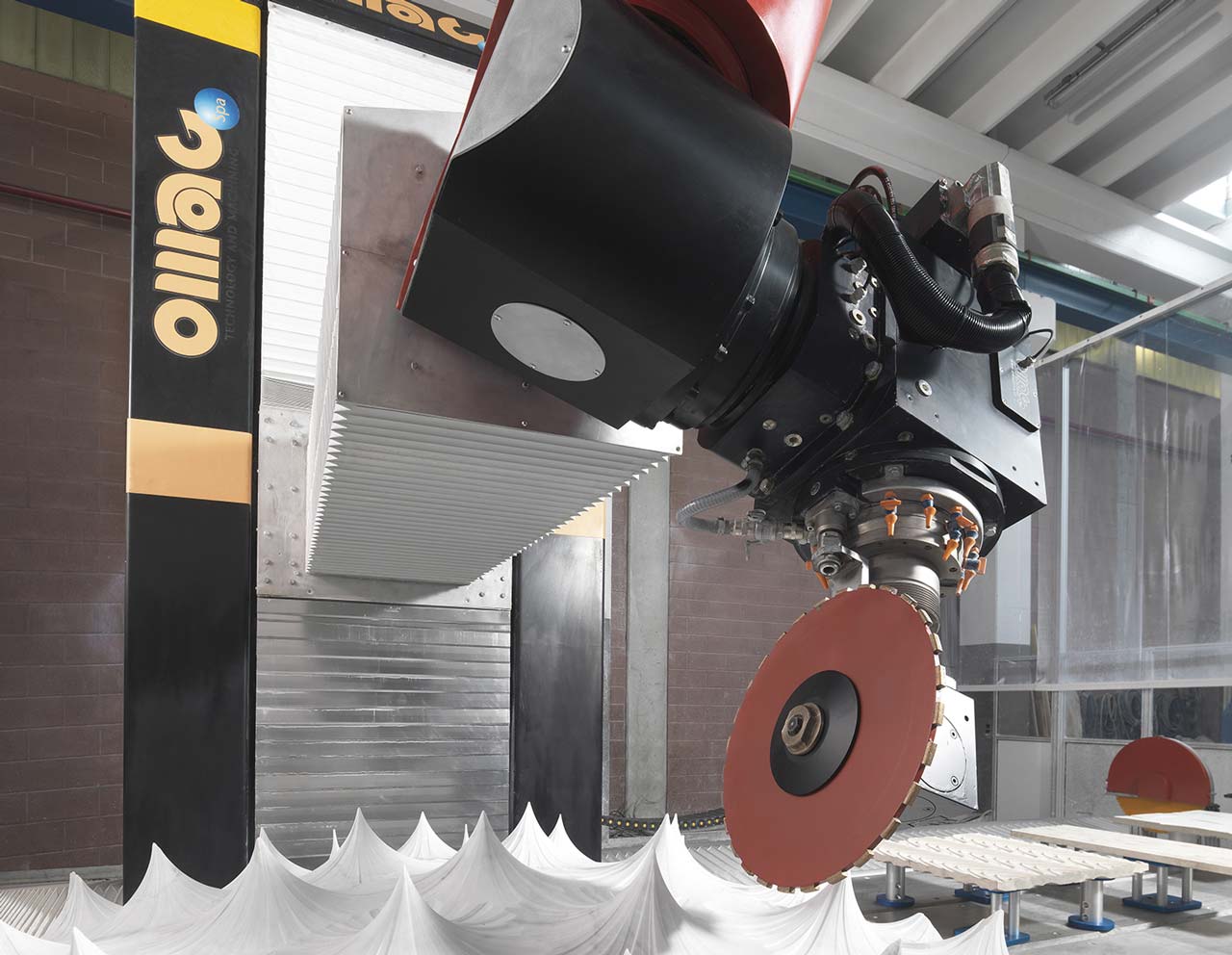 TOWER, while moving like a robot, has a torsional rigidity that is 50% higher than the classic anthropomorphic systems.
TOWER does not limit the processing possibilities, it is designed and built in such a way that it can be equipped and customised to perform each of the typical processes of a small or large laboratory.
The range of sizes with which it can be proposed means that each customer can make the best choice for their specific processing needs, thus guaranteeing a truly targeted purchase.
However, the precision mechanics also allows three-dimensional processing, bas-reliefs, inlays, kitchen tops, arches, capitals, sculptural columns.
For every possible need, TOWER, thanks to a 54 horsepower electrospindle, also designed by OMAG, can use discs of large diameter (Ø 1,600), extremely useful for all milling, roughing, and shaping needs.
The 6 axes of movement of the machine, combined with a seventh axis, which is the rotation of the work table, mean that all the faces of a piece can be machined without undercut limits.
Digital brushless motorisation
7 interpolated axes
X Axis 4.000 mm till a 12.000 mm on demand
Movement speed X Axis 0÷60 mt/min
Y Axis 2.000 mm till a 3.000 mm on demand
Movement speed Y axis 0÷60 mt/min
Z Axis 2.500mm till a 6.000 mm on demand
Speed movement Z Axis 0÷60 mt/min
B Axis 0°÷+185° – 185°
C Axis 0÷10°+185°
A Axis 0°÷+185° – 185°
U Axis tilting table rotation 3.6 RPM ( loading capacity 25 ton-35 ton)
| Description | Data |
| --- | --- |
| Edit Interpolated controlled axes | 7 axes |
| X axis transversal stroke | 4000mm to 12000mm on demand |
| X axis movement speed | 0 ÷ 60m/min |
| Y axis longitudinal stroke | 2000mm to 3000mm on demand |
| Y axis movement speed | 0 ÷ 60m/min |
| Z axis vertical stroke | 500mm |
| Z axis movement speed | 24m/min |
| B axis rotation | 0° / + 185° -185° |
| C axis rotation | 0° / - 10° +185° |
| A axis rotation | 0° / + 185° -185° |
| U axis rotation working table | 3.6 rpm (weight capacity 25 - 35 tonnes) |
| Working table sizes | 3500mm x 2000mm on demand |
| Maximum disc diameter Blade5NC version | 1450mm |
| Motor power | (S1) 40Kw - 54HP |
| Tool attachment | ISO50 |
| Automatic blade change | from 1100mm diameter on demand |
| Rotating control by inverter | 0 ÷ 8000 rpm (ISO50 version) |
| Tools storage capacity | chosen by customer (ISO50 version) |
| Water consumption (about approx. 4 bar) | 60L/min) |
| Air consumption | 20NI (6 bar) |
Request Further Information