Omag Mill4x is the 3/4-axis CNC working center that groups all the functions of a shaping machine and a lathe in a single system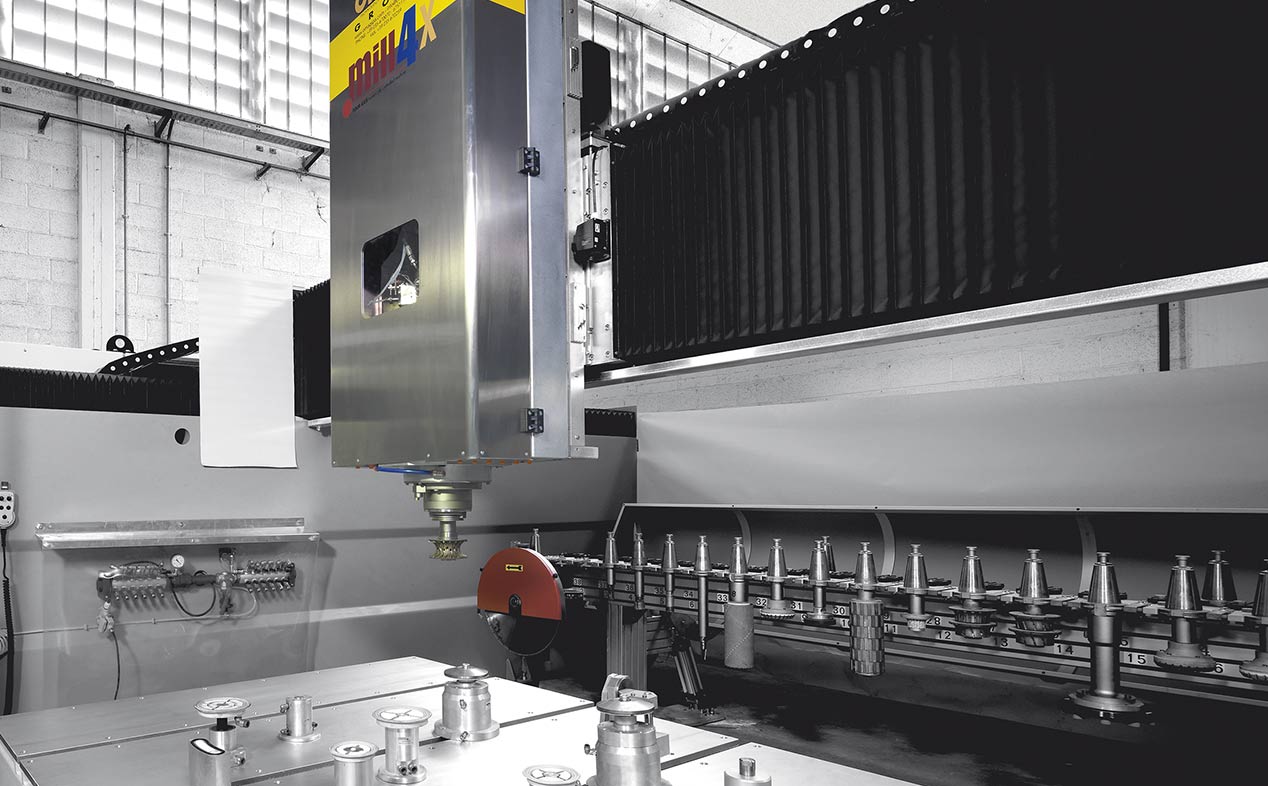 MILL4X is the result of OMAG experience gained in 25 years of production and the combination of the best technologies, with the simplicity of setting the job for shaping, contouring, engraving, milling, sculpting, polishing, turning of marble, granite, stones in general and glass. MILL4X is a highly productive machine both when mass production is required, and for unique and original pieces.
The high speed of the axis movement is ensured by a brushless motorization combined with ball screws, while the sliding on linear guides with ball slides, the protection of the moving parts with pvc bellows and a centralized oil, guarantee quality and precision over time.
The mobile bridge technology makes MILL4X a modular machine, as the additional application of the turning system or the lengthening of the work surface can be carried out at any time, according to the actual needs of the customer.
The numerical controls used are from the main world manufacturers, the software development (CAD / CAM) and the customization of the machine functions are carried out by an OMAG staff who also has the task of ensuring a pre and post sales training and assistance service.
Max blade diameter ISO40 version diam.400 mm
Motor power S1- Kw 9/Hp 12,24
Rotating control by inverter 0÷10.000 RPM
Max Blade diameter ISO50 version diam. 500 mm
Motor power S1 Kw9/Hp 12,24
Rotating control by inverter 0÷8.000 RPM
| Description | Data |
| --- | --- |
| Interpolated controlled axes | 4 axes |
| X Axis transversal stroke* | 3.000 mm. to 4.500 mm. on demand |
| X Axis movement speed | 0÷ 50 mt./min |
| Y Axis longitudinal stroke* | 1.500 mm. to 6.000 mm. on demand |
| Y Axis movement speed | 0÷ 50 mt./min |
| Z Axis vertical stroke* | 500 mm. to 1.200 mm. on demand |
| Z Axis movement speed | 0÷ 25 mt./min |
| C Axis rotation | 0° ÷ 380° continuous |
| T inclined | 0° + 0,28° drain board function |
| Working table sizes | 3.000 x 1.500 mm. on demand |
| (Max) blade diameter version | Ø 400 mm (ISO40 Version) Ø 500 mm (ISO50 Version) |
| Motor power | S1 – Kw. 9 / H.p. 12,24 |
| Tool Attachment | ISO40 |
| Rotating control by inverter | 0 ÷ 10.000 RPM (ISO40 version) 0 ÷ 8.000 RPM (ISO50 version |
| Tool storage capacity | chosen by the customer (ISO40/50 version) |
| A AXIS NC lathe | diameter and length on demand - |
| Water consuption (about approximate 2 bar) | 40 Lt. / min. |
| Air consumption | 20 Nl / (6 bar) |
Request Further Information