A 5 Axis CNC Bridge Saw that, in a small space, allows to perform all the operations necessary for a small and medium-sized laboratory.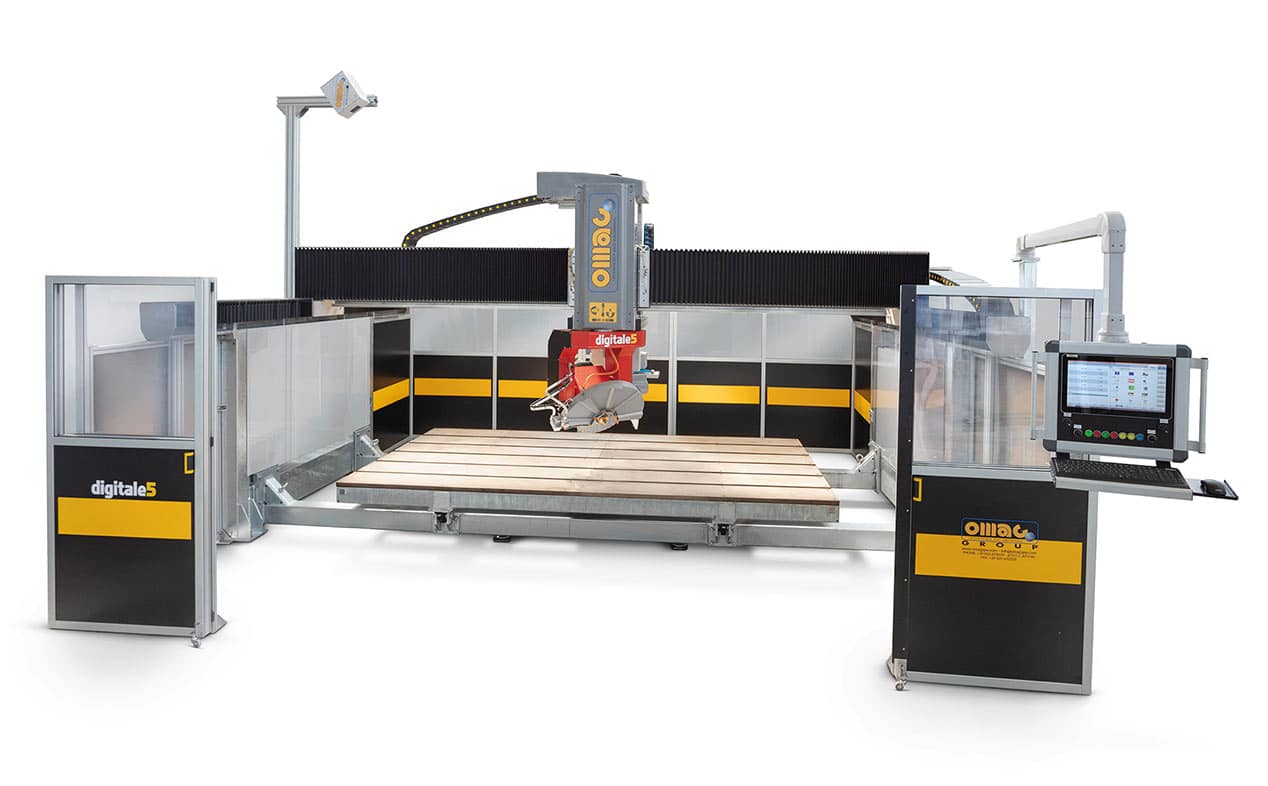 The machine has a monobloc structure, in steel, with hot galvanizing treatment; its positioning does not require building works.
All the axes of this milling machine run on linear guides with recirculating ball bearings, driven by a precision rack and pinion system for the X and Y axes, while for the Z axis with ball screw and pre-loaded nut.
The air-cooled motor has a 1⁄2 "gas tool connection with internal passage of cooling water.
The working table, made of wood panels, has an electro-welded steel structure and a capacity of up to 900 kg; it can tilt up to 85 ° thanks to a double piston hydraulic system.
The front guards of the machine comply with the European regulations in force.
An automatic lubrication system is installed on all moving parts of the machine.
Digitale 5 is a milling machine capable of processing different materials: natural stone, quartz, ceramic, glass and plastic materials.
Controlled motion axes 5
Workbench 141" x 78,7" +19,6" / 3.600 x 2.000 + 500 mm
Tilting table function 85° – 3.520 lbs loading / 1.600 kg
Cutting thickness with Ø 24,6" (625 mm) disc 7'87" / 200 mm
Minimum cutting disc Ø 13,7" / 350 mm
Axis X – Transverse axis stroke 141" / 3.600 mm
Axis Y – Bridge axle stroke 104" / 2.650 mm
Axis Z – Vertical axis travel 15,7" / 400 mm
Axis C – Rotation in axis of the disk 0° + / – 200 °
Axis B – Disc inclination 0° + 90
Disc motor power and rotation (S6) 24,4 Hp / 5.000 Rpm
| Description | Data |
| --- | --- |
| Interpolated controlled axes | 5 axes |
| Workbench | 141" x 78,7" +19,6" / 3.600 x 2.000 + 500 mm |
| Tilting table function | 85° - 3.520 lbs loading / 1.600 kg |
| Cutting thickness with Ø 24,6" (625 mm) disc | 7'87" / 200 mm |
| Minimum cutting disc | Ø 13,7" / 350 mm |
| Axis X - Transverse axis stroke | 141" / 3.600 mm |
| Axis Y - Bridge axle stroke | 104" / 2.650 mm |
| Axis Z - Vertical axis travel | 15,7" / 400 mm |
| Axis C - Rotation in axis of the disk | 0° + / - 200 ° |
| Axis B - Disc inclination | 0° + 90 ° |
| Disc motor power and rotation | (S6) 24,4 Hp / 5.000 Rpm |
| Approximate weight | 8.820 lbs / 4.000 kg |
| Water consumption | 40 Lt. / min. |
| Overall dimensions | 232" x 185" - h 111" / 5.900 x 4.700 - h 2.800 mm |
Request Further Information