5 Axis Interpolated Milling Machine
A cnc working center that in a single space allows to carry out all the processes required to a small or medium-sized laboratory.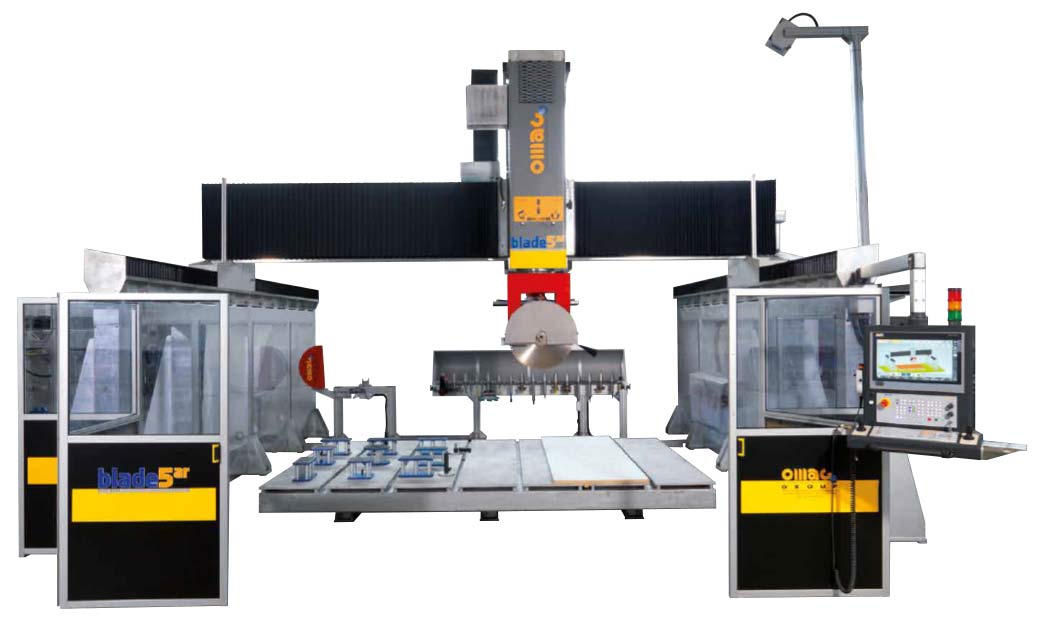 Blade 5ar is a 5-axis numerical control machining center for architectural and flat elements, capable of working on different materials such as natural stone, quartz, ceramic, glass and plastics. The machine offers the operatormany options such as milling, carving and production of plans.
Blade 5ar is equipped with an electrospindle with a high torque able to use large discs for thick cuts. It can be equipped with a lathe attachment, infeed and outfeed tables, as well as a suction cup system for moving cut pieces: optimizing cutting means minimizing material waste and therefore not manually intervening during the cutting phases.
Thanks to the digital camera it is possible to memorize slabs of any material. By activating the VEIN function, design and cutting can be performed respecting the grain of the material of different slabs. The acquired image is able to automatically identify the contours of the slabs and therefore recognize the measures.
Blade 5ar can be built in many customizes configurations including double tables, moving tables, different sizes and tools.
Maximum size of the disc diameter from ø500 to ø1.300 mm
Motor Power S6 29 KW 39,4 HP(S1) 20 KW 27.2 HP
ISO50 Tool attachment
Automatic disc change from ø 350 to ø 1.200 mm
| Description | Data |
| --- | --- |
| Interpolated controlled axes | 5 axes |
| Minimum disc diameter | 300mm |
| Maximum disc diameter | 1200mm |
| Maximum thickness cutting capacity | 460mm |
| Spindle Motor Power | (S6) 29Kw - 39HP |
| Spindle Rotation by inverter | 0 ÷ 8.000 |
| Milling attachment | Automatic |
| Tools connection | ISO50 |
| Automatic Blade change | from 500 mm to 900 mm |
| Tools storage | 12 ÷ 40 stations |
| Head rotation (C axis) | ° - 200 /+ 200 |
| Head inclination (B axis) | ° 0 / + 120 |
| Horizontal stroke (X axis) | 3800mm |
| Head raising/lowering stroke (Z axis) | 1000mm |
| Horizontal Stroke Speed (X axis) | 50m/min |
| Transversal Stroke Speed (Y axis) | 50m/min |
| Vertical Stroke Speed (Z axis) | 24m/min |
| Head rotation speed (C axis) | 60º/sec |
| Tilting head speed (B axis) | 35º/sec |
| Working Table Sizes | 3,600mm x 2,300mm |
Request Further Information