5-axis manual & automatic (CNC) shaping milling machine
This machining center was designed with the aim of being able to offer in a single space a machine capable of being able to carry out all the processes required to a small or medium-sized laboratory.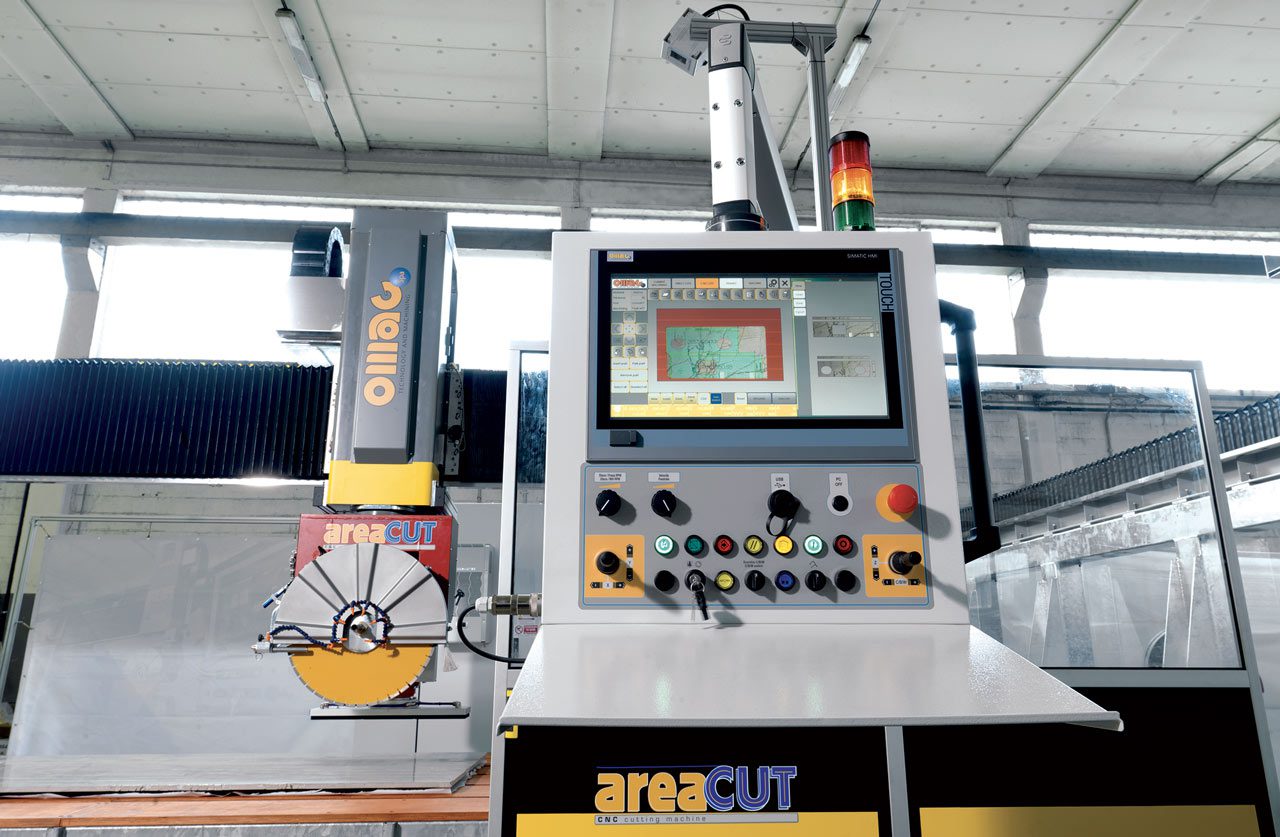 Cutting geometries can be imported either in standard DXF format or in CVS format (simple spreadsheet). Once the cutting geometries have been defined, we then move on to the choice of positioning the individual elements in the cutting plate, the NESTING function performs this operation automatically, the user can always customise the cut respecting any grain of the material. Optimizing cutting means minimising material waste and therefore not intervening manually during the cutting phases.
The AREAMULTICUT_DUAL version automatically identifies all the cutting lines that can be carried out simultaneously by both heads. The support table (belt) by rotating ensures that all cutting combinations are possible. The software allows in a simple and intuitive way to relaunch the machined pieces that present anomalies.
Minimum diameter of the disc 300 mm /11,88"
Maximum diameter of the disc 625 mm /24,60"
Maximum cutting thickness 210 mm/8,26"
Spindle motor power S6 18Kw-24,4 Hp
Spindle Rotation by inverter 0÷5.000
Spindle motor power S6 18Kw-24,4 Hp
Spindle rotation with inverter 0÷5.000
Manual tool attachment
Tool attachment ½"
C Axis rotation C °-200/+200
B Axis rotation B 0°/+90
X Axis 3.600 mm/141,73"
Y Axis 2.300 mm/90,55"
Z Axis 500 mm/19,68"
| Description | Data |
| --- | --- |
| Interpolated controlled axes | 5 axes |
| Minimum disc diameter | 300mm |
| Maximum disc diameter | 625mm |
| Maximum thickness cutting capacity | 210mm |
| Spindle Motor Power | (S6) 18Kw - 24.4HP |
| Spindle Rotation by inverter | 0 ÷ 5.000 |
| Milling attachment | Manual |
| Tools connection | 1/2" |
| Automatic Blade change | No |
| Tools storage | No |
| Head rotation (C axis) | ° - 200 /+ 200 |
| Head inclination (B axis) | ° 0 / + 90 |
| Horizontal stroke (X axis) | 3600mm |
| Bridge transversal stroke (Y axis) | 2300mm |
| Head raising/lowering stroke (Z axis) | 500mm |
| Horizontal Stroke Speed (X axis) | 50m/min |
| Transversal Stroke Speed (Y axis) | 50m/min |
| Vertical Stroke Speed (Z axis) | 24m/min |
| Head rotation speed (C axis) | 60º/sec |
| Tilting head speed (B axis) | 35º/sec |
| Working Table Sizes | 3,600mm x 2,300mm |
Request Further Information