A high productivity cutting production line
Numerical control cutting machine (single or double)for high production, automatic loading and unloading. In order to optimise a very high productivity machine in a small space, Omag has designed AREAMULTICUT. This numerical control machining centre has been designed in such a way as to be able to contain the three main processing phases in a short time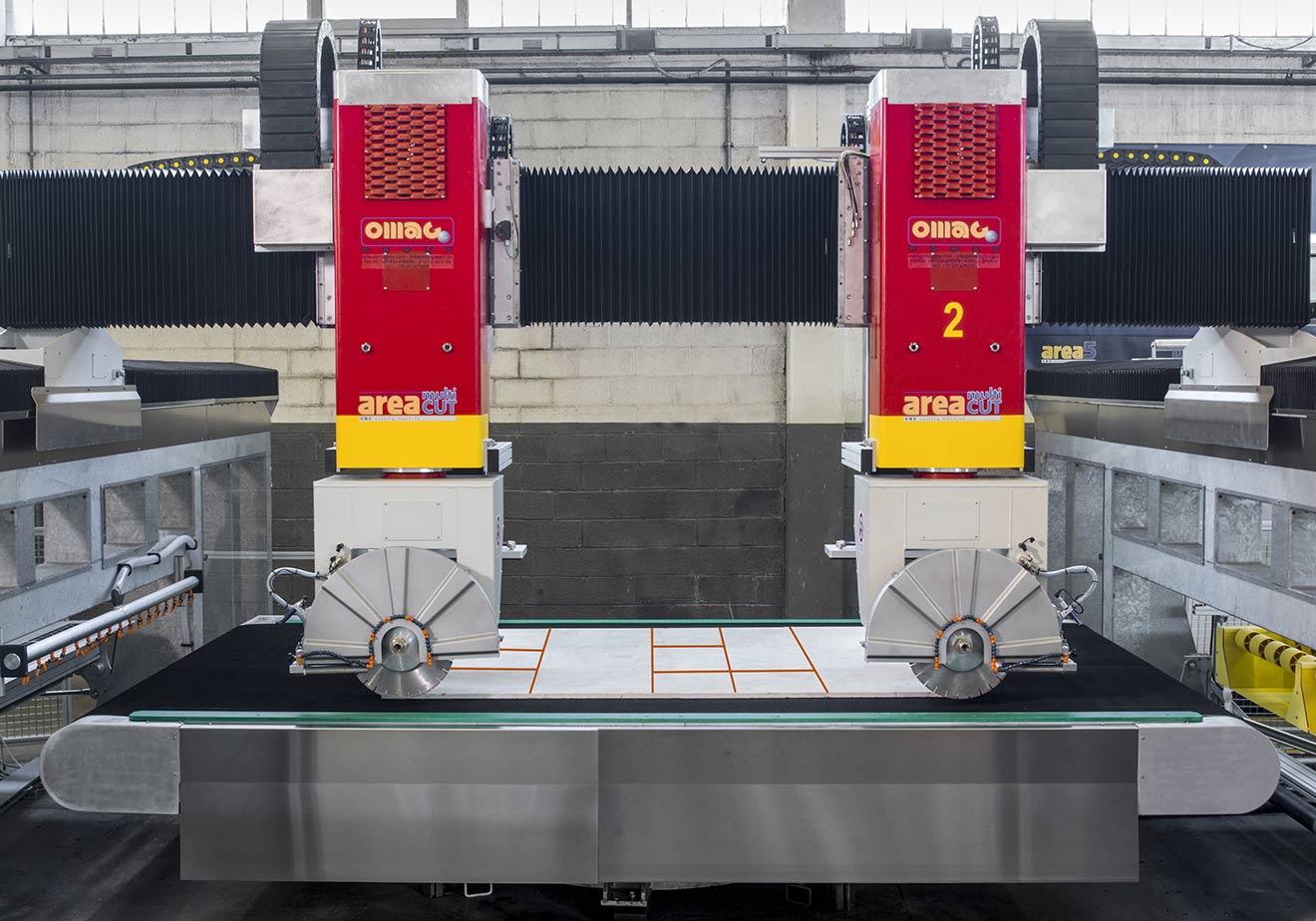 In the DUAL version, in a work shift of about 8 hours it is possible to reach a production of about 500 m2.
Cutting geometries can be imported either in standard DXF format or in CVS format (simple spreadsheet). Once the cutting geometries have been defined, you move on to the choice of positioning the individual elements in the cutting plate, the NESTING function performs this operation automatically, the user can still customise the cut respecting any grain of the material. Optimizing the cut means minimising material waste and therefore not intervening manually during the cutting phases. The AREAMULTICUT_DUAL version automatically identifies all the cutting lines that can be carried out simultaneously by both heads. The support table (belt) by rotating ensures that all cutting combinations are possible. The software allows in a simple and intuitive way to relaunch the machined pieces that present anomalies.
All this is possible as the loading phase is carried out with a suction cup loading table, the processing can be carried out in the DUAL version with double head while in the SINGLE version with one head and finally the unloading which can be automated with a robotic system. The unloading of the cut pieces, after being washed and dried, can be done manually or by using an unloading ROBOT.
Minimum disc diameter mm / inch 300 / 11.88″
Maximum disc diameter mm / inch 625 / 24.60″
Maximum cutting thickness mm / inch 210 / 8.26″
Minimum distance between discs mm / inch 200 / 7,87″
Maximum distance between the discs mm / inch 4.800 / 188.97″
Spindle motor power S6 25 HP – S1 20.4HP
Spindle rotation with inverter 0 ÷ 4.000
Axis rotation C ° – 200 / + 200
B axis inclination 0 / + 90
X axis stroke of the transversal disc mm / inch 3.600 / 141.73″
Y axis longitudinal stroke mm / inch 2.950 / 116.14″
Z axis vertical stroke mm / inch 500 / 19.68″
X axis movement speed m / min 50
Y axis movement speed m / min 50
Z axis movement speed m / min 24
C axis rotation speed ° / sec 60
B axis rotation speed ° / sec 35
Loading table dimensions mm / inch 4.300 x 2.200 / 169.29 "x 86.61"
Working table dimensions mm / inch 4.200 x 2.300 / 165.35 "x 90.55"
Unloading table dimensions mm / inch 4.200 x 2.300 / 165.35 "x 90.55"
Maximum belt speed m / min 16
| | Single | Double |
| --- | --- | --- |
| Controlled axes | 5 | 10 |
| Minimum disc diameter | 300mm | 300mm |
| Maximum disc diameter | 625mm | 625mm |
| Maximum thickness cutting capacity | 210mm | 210mm |
| Minimum distance blade to blade | | 200mm |
| Maximum distance blade to blade | | 4800mm |
| Spindle Motor Power | S6 25 HP - S1 20,4HP | S6 25 HP - S1 20,4HP |
| Spindle Rotation by inverter | 0 ÷ 4.000 | 0 ÷ 4.000 |
| Head rotation (C axis) | ° - 200 /+ 200 | ° - 200 /+ 200 |
| Head inclination (B axis) | ° 0 / + 90 | ° 0 / + 90 |
| Horizontal stroke (X axis) | 3600mm | 2400+2400mm |
| Bridge transversal stroke (Y axis) | 2950mm | 4800mm |
| Head raising/lowering stroke (Z axis) | 500mm | 500mm |
| Horizontal Stroke Speed (X axis) | 50m/min | 50m/min |
| Transversal Stroke Speed (Y axis) | 50m/min | 50m/min |
| Vertical Stroke Speed (Z axis) | 24m/min | 24m/min |
| Head rotation speed (C axis) | 60º/sec | 60º/sec |
| Tilting head speed (B axis) | 35º/sec | 35º/sec |
| Loading Table Sizes | 4,300mm x 2,200mm | 4,300mm x 2,200mm |
| Working Table Sizes | 4,300mm x 2,300mm | 4,300mm x 2,300mm |
| UnloadingTable Sizes | 4,300mm x 2,300mm | 4,300mm x 2,300mm |
| Conveyor Belt Max Speed | 16m/min | 16m/min |
Request Further Information