Lamellar Pack Water Clarifier
Lamellar water clarifier Blucomb in its variations: Polystone, hot galvanized and painted, is able to treat a high quantity of water maintaining reduced dimensions, allowing the installation in laboratories with limited available space.
Lamellar self-cleaning system (optional) guarantees a better depuration efficiency and at the same time, it maintains the clarifier cleaner. Flow capacity with this system is included from 250 to 950 l/min.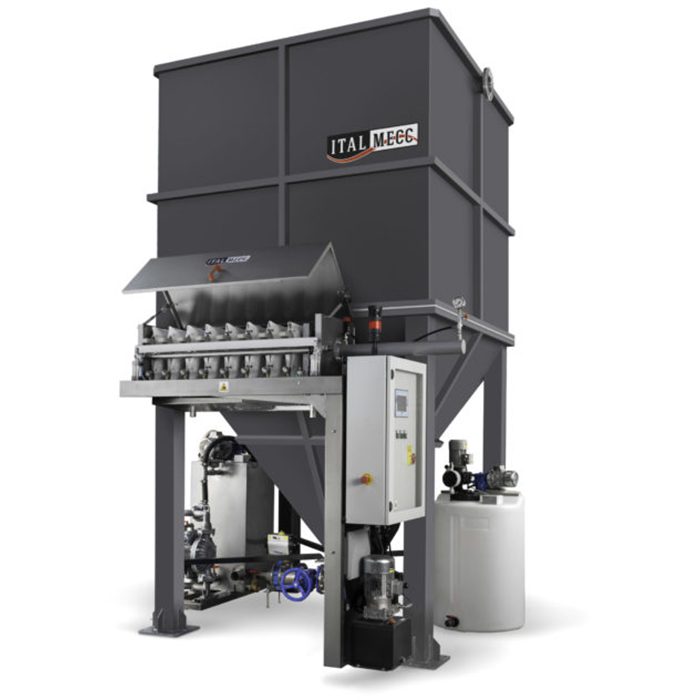 | | Capacity | Overall Dimensions | Height | with Flocculant | without Flocculant |
| --- | --- | --- | --- | --- | --- |
| BC 6.0 | 6 L | 2650 X 1700 mm | 3400 mm | 500 l/min | 250 l/min |
| BC 11.0 | 11 L | 3150 X 2200 mm | 3800 mm | 900 l/min | 450 l/min |
| BCM 8.5 | 8.5 L | 2200 x 2200 mm | 3600 mm | 700 l/min | 350 l/min |
| BCM 11.0 | 11 L | 2200 x 2200 mm | 4100 mm | 900 l/min | 450 l/min |