Their positioning above vehicle pathways and their ability to overcome any obstacle have allowed better management of the internal areas of industrial buildings.
Overhead bridge cranes, with one or two beams depending on the need, can be equipped with either a block and tackle supplied by any of several important European companies or a winch that we manufacture and supply ourselves.
From the point of view of our product and the professional services we offer our customers, Giacomini Officine Meccaniche is able to provide the best solution for each specific need of gantry cranes and overhead bridge cranes, while carefully respecting the requirements of your budget, thanks to our highly qualified engineering department.
It is precise because of our flexibility that we were able to install several automatic/robotic systems in the papermaking and metallurgical sectors.
Every machine is designed according to customer requirements.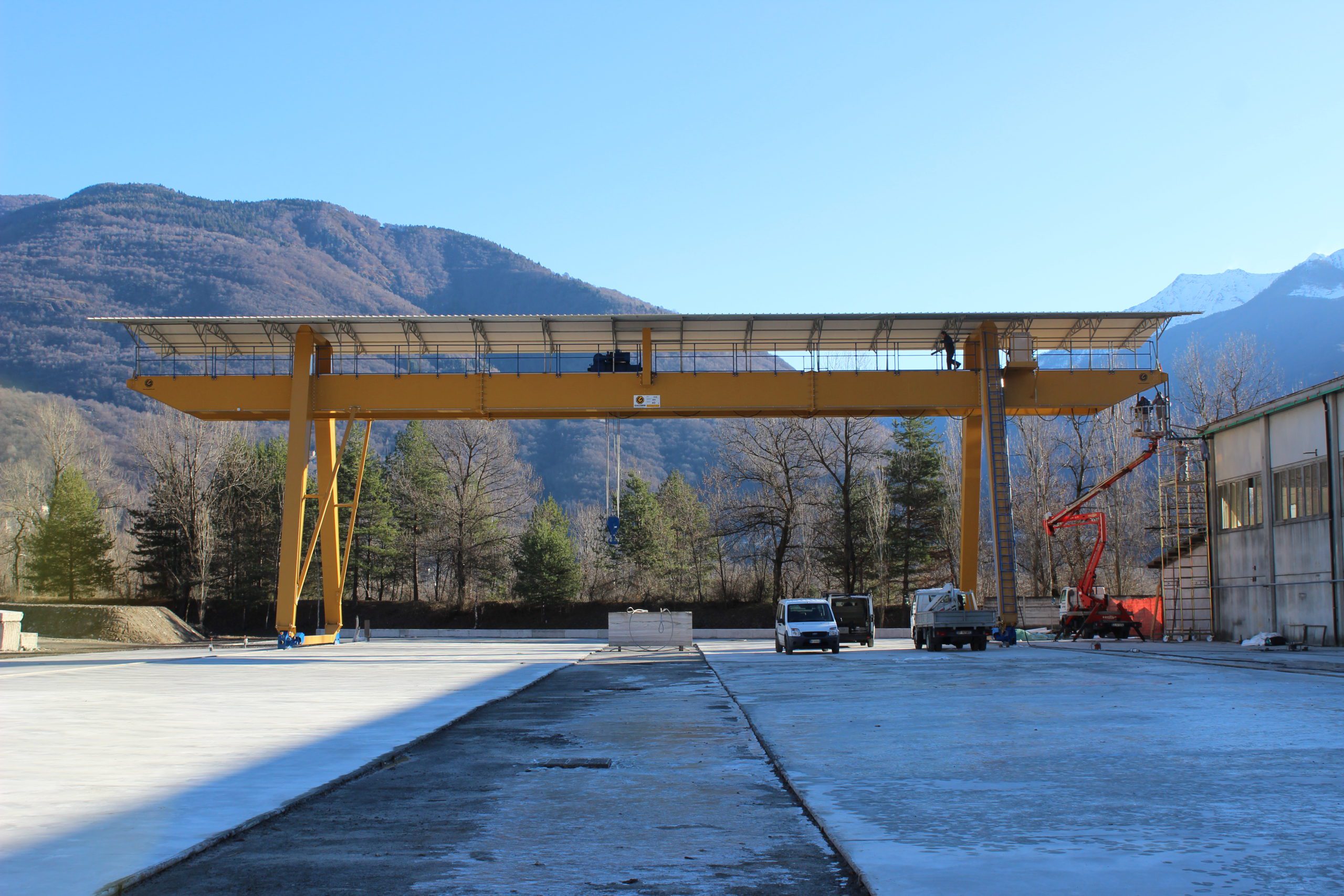 Electric Equipment
Placed in a watertight metallic cabinet with high-quality components. A double safety limit switch is mounted on the crab lifting movement.
Structures
The master girders, legs, and connections are welded structural steel plate material, reinforced by diaphragms and cross bracings. A gangway can be provided, on request, along with one of the master girders.
Longitudinal Travel
Properly dimensioned steel wheels running on roller bearings. Movement for high lifting capacities and large size cranes is achieved by means of double wheel articulated carriages. Only the highest quality casehardened and temperated oilbath gearboxes are used. On request an inverter is available in order to have a soft start, that prevents dangerous load swingings. It is installed on any crane gearmotors directly coupled on the wheel (very low maintenance).
Lifting and Trolley
For single girder cranes, a high-quality hoist-trolley runs along the girder lower flanges, while double girder cranes are supplied whit a structural box crab, produced by ourselves, which runs on four steel wheels rotating on roller bearings. Lifting winding drum directly splined on its gearbox. Electro-hydraulic shoes brake on the lifting movement. Motor and gearbox fixing bases are manufactured by numerical control machine in order to assure the perfect ranging among the components.
Control
Usually controlled by means of low-tension pendant push-button panel. Remote control also available on request.
Painting
Steel structures are mechanically brushed, chemically degreased, and protected with two coats antirust primer and one enameled coats. Sandblasting on steel works is available on request.
Single Beam Technical Details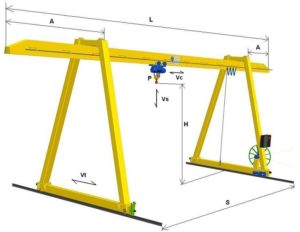 Double Beam Technical Details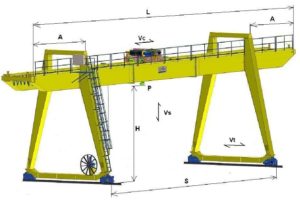 | Capacity / kg | S/m | A/m | H/m | L/m | Vs / m/min | Vc / m/min | Vt / m/min |
| --- | --- | --- | --- | --- | --- | --- | --- |
| 3200 - 12500 depends on model | 6 - 30 | 2 - 9 | 5 - 12 | 10 - 48 | 4/1.3 | 18/6 or 20/5 | 32/8 or 40/10 |
| Capacity / kg | S/m | A/m | H/m | L/m | Vs / m/min | Vc / m/min | Vt / m/min |
| --- | --- | --- | --- | --- | --- | --- | --- |
| 16000 - 60000 depends on model | 10 - 36 | 2 - 9 | 6 - 12 | 14 - 54 | 3/1.5 | 16/4 or 20/5 | 32/8 or 40/10 |