Originally designed for the specific requirements of handling blocks of granite and marble, gantry cranes have progressively extended their field of industrial application.
In fact, the versatility of these lifting devices allows optimizing space management thanks to their ability to overcome any obstacle in all types of depots.
Giacomini Officine Meccaniche manufactures single and dual beam gantry cranes with capacities from 2 to 100 tons and axle-bases from 5 to 40 m, with overhanging side arms proportional to the wheel base.
We also offer personalized solutions developed by a staff of expert technicians that stay constantly abreast of progress in the industry. Every request, even the most complex, is welcomed as an opportunity to gain yet another completely satisfied customer.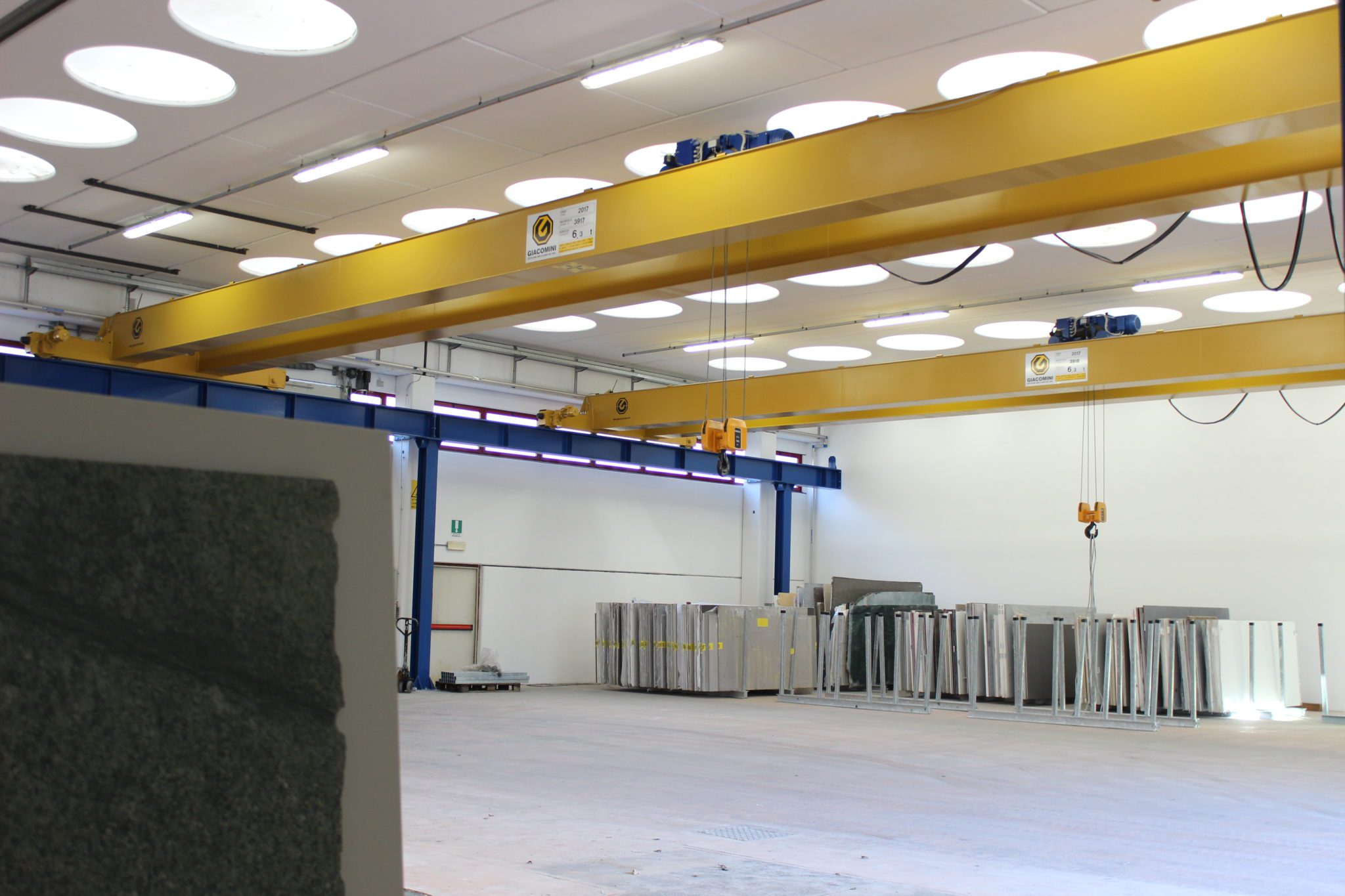 Structures
Designed and constructed depending to the crane service and use.
Broad
Flanged beams for low capacities and for the others use box beams in welded steel plate material are considered.
Travelling Movement
On double rim steels wheels rotating on roller bearings with driving wheels controlled by self-breaking geared motors, progressive starting and breaking type.
Lifting Movement
With electric rope hoist for capacities up to 8.000 kg and crab for bigger capacities. Heavy duty for power greater than 25 HP foreseen a slip ring motor with INOX step resistances. Creep speed or auxiliary hoist upon request.
Electric Equipment
Placed in a watertight metallic cabinet with high-quality components, chosen accordingly. Reversal of traveling movement creep speed operation is controlled by a timer, in order to safeguard stress in movements parts.
Painting
With one coat antirust primer and two finishing enamelled coats. Sandblasting on steel works is available on request.
Fittings
For all the working necessities.
Optional Equipment
Pincers and clamps, buckets and vacuum suction cups on the lifting apparatus. Travelling movements controlled by inverter. Remote control.
Single Beam Technical Details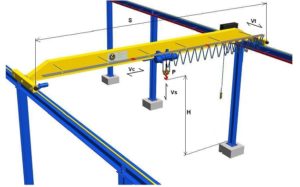 Double Beam Technical Details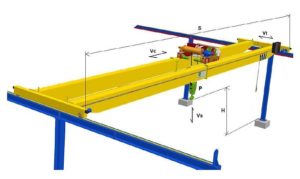 | Capacity / kg | S / m | H / m | Vs / m/min | Vc / m/min | Vt / m/min |
| --- | --- | --- | --- | --- | --- |
| 3200 - 12500 depends on model | 10 - 25 | 5 - 12 | 4/1 | 18/6 or 20/5 | 32/8 or 40/10 |
| Capacity / kg | S / m | H / m | Vs / m/min | Vc / m/min | Vt / m/min |
| --- | --- | --- | --- | --- | --- |
| 3200 - 12500 depends on model | 10 - 30 | 5 - 12 | 4/1 | 16/4 or 20/5 | 32/8 or 40/10 |
| 16000 - 60000 depends on model | 10 - 30 | 5 - 12 | 3/1.5 | 16/4 or 20/5 | 32/8 or 40/10 |