FLOTTER 520 / 540 / 540 PLUS
The edge-polisher Flotter 520 is suitable for polishing and profiling the edges on composite stones. A small machine that is simple to use and maintain.
The electronic equipment sets the partial polishing, the on/off regulation of the polishing heads, the automatic polishing of irregular shape like winding staircase and many other possibilities.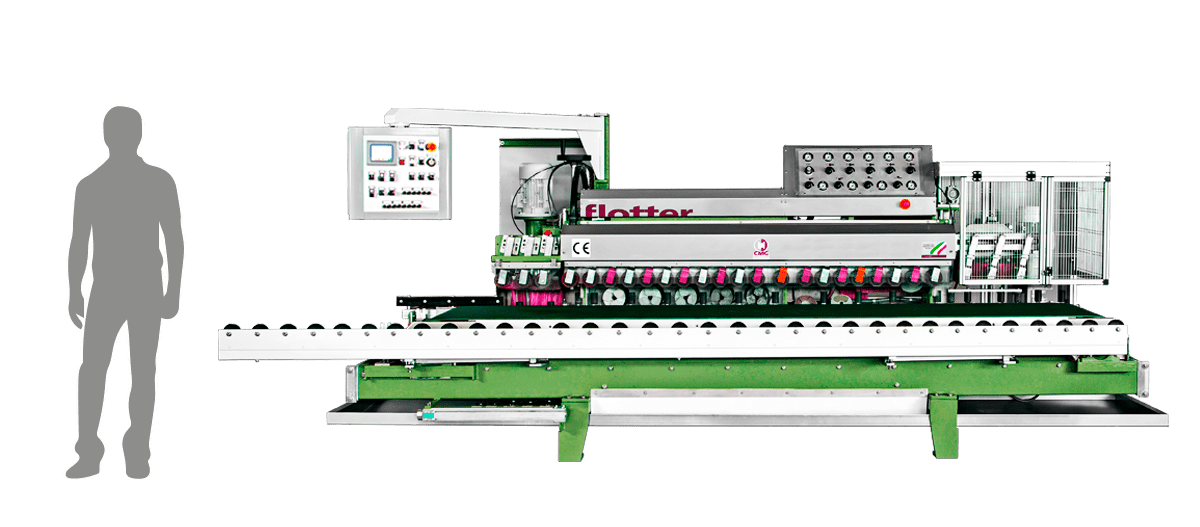 support bar with manual adjustment to support slabs with different dimensions;
1 meter roller tables to support the pieces being processed;
Kw. 4 universal cutter for upper, lower and inclined cutting with various tilting degrees;
Kw. 4 calibrator with vertical and horizontal adjustment;
5 frontal polishing heads with an independent regulation of the air pressure;
protection carter and cover in stainless steel;
the conveyor belt runs on cold drawn flat stainless steel bars of 12 mm.
 
model
Flotter 520
Flotter 540
flotter 540 plus
Front Spindles
5
5
5
Bevelling Spindles
1+1
2+2
2+2
Diameter Of The Calibration Wheel
200 mm
-
200 mm
Diameter Of The Cutting Disc
300 mm
300 mm
300 mm
Abrasive Heads Diameter
130 /150 mm
130 /150 mm
130 /150 mm
Min/Max Working Thickness
15 / 60 mm
15 / 60 mm
15 / 60 mm
Feed Speed (Conveyor Belt)
5 / 2300 mm/min
5 / 2300 mm/min
10 / 2300 mm/min
Water Consumption
60 I/min
70I/min
80 I/min
Max Power Required
20 kW
19 kW
22 kW
Overall Dimensions
3750 x 1800 mm
3750 x 1800 mm
4000 x 1800 mm
Machine Weight
2700 kg
2900 kg
3000 kg