Automatic Cross Cutting Machine
DONATONI APL cross cutter develops from the APN series to meet the increasing demand for more efficient use of materials.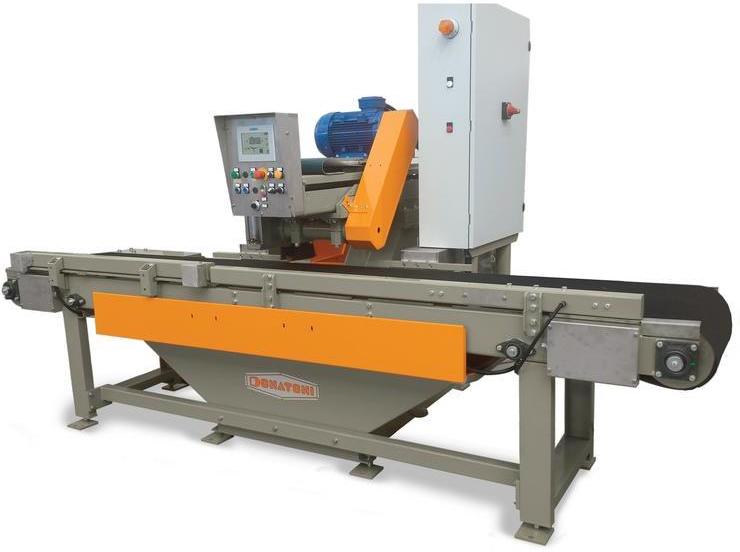 | TYPE | APL/06 | apl/10 | aplb/06-500 | aplb/10-625 |
| --- | --- | --- | --- | --- |
| Useful cutting width | 610mm | 1000mm | 610mm | 1000mm |
| Maximum blades diameter | 400 mm | 400 mm | 500 mm | 625 mm |
| Maximum cutting thickness | 100m | 100m | 150m | 200m |
| Blade/blades motor power | 7.5kW | 7.5kW | 15kW | 15kW |
| Installed power | 10.5kW | 10.5kW | 19kW | 19kW |
| Water Consumption | 20 l/min | 20 l/min | 20 l/min | 20 l/min |
| Compressed air consumption | 15 l/min | 15 l/min | 15 l/min | 15 l/min |
| Machine weight | 2100 kg | 2400 kg | 2400 kg | 2550 kg |
| Overall Dimensions | 3800 x 1800 x 1800/h mm | 3800 x 2500 x 1800/h mm | 800 x 2500 x 1800/h mm | 3800 x 2500 x 1800/h mm |
works with single-pass cutting for marble of various lengths and thicknesses, guaranteeing precision and high productivity;

its solid structure supports and handle heavy slabs;

the supporting surface is comprised of a thick, motorised rubber belt, offering two speeds: a fast one, to approach the required measurement, and a slow one, for precise material positioning;

it is fitted with pneumatic clamps, to hold down the slab, synchronised with the cutting phases;

it allows the operator to perform made-to-measure cuts thanks to manually adjustable recessed reference marks fitted on the bench;

it operates with motor/spindle, with belt transmission, with the possibility of rpm variation based on the material being cut;

it is possible to adjust the disc cutting depth on the belt, taking disc wear into account, thanks to the automatic up/down movement of keyboard adjustable spindle carriage;

it has an inverter that manages the forward movement of the spindle carriage to adjust the cutting speed;

in the final phase, the spindle carriage slows down to facilitate the cutting process;

it includes quick spindle carriage return, reducing processing times;

the on-board PLC controls the various processing phases, offering the operator a broad choice of processing cycles;

it features a touch screen for man-machine interfacing, to: set the cutting cycles, control processing progress in real time, check parts operation and quantity of cut material.
Made-to-measure cuts with joystick
The operator brings the material up to the disc for the first cut, and performs cross cutting. The cross cutter allows the operator to perform made-to-measure cuts or cutting at set lengths. The lengths can be set using the alphanumeric keypad or the keys of the simplified "intuitive" system.
Sequential automatic made-to-measure cutting
The operator assigns the lengths to the buttons (max 6) and can also set one of the following sequences: cutting sequence with different measurements; cutting sequence with a single repeated measurement or several repeated measurements. The cutting sequences can be combined with several widths of the material, and entered in a database that the operator can then use.